At Mountain West Plastic Surgery in Kalispell, Dr. Michelle Spring has earned a reputation as one of the most trusted doctors in the area. In addition to her work with countless patients here in the States, she has helped children and adults abroad through the international humanitarian agency ReSurge.
In honor of International Women's Day, Dr. Spring shines a light on women's issues in the field of plastic surgery. In this interview, she discusses what's it's like to be a woman in a male-dominated field, how she has learned to appreciate her own strengths that come from balancing motherhood and a stressful profession, and the rewarding work of volunteer internationally.
What first inspired you to pursue a career in plastic surgery?
I was first interested in medicine as a young child in elementary school, and I knew that I wanted to become a physician. I worked as an Emergency Medical Technician during college and medical school, so I thought that I would like to work in the Emergency Room. However, once I was exposed to the various surgical specialties, everything changed.
I went to medical school at the University of Wisconsin, where there is a very strong international cleft surgery program. Plastic Surgery residents, in their chief year of training, get to work in Ecuador learning cleft surgery and interacting with the local surgeons. Our department administered their plastic surgery board exams and worked with local plastic surgeons to set up a quality residency program. The Equadorian plastic surgery residents would also join us in Madison every year, so the relationships continued to develop over time. This dedication to global plastic surgery education was one of the most exciting things about the program. Even as a medical student, that humanitarian side drew me into the specialty, and I knew plastic surgery was the right fit for me.
What's it like to be a woman in a male-dominated field?
I think there are a lot of uncomfortable issues that many women will recognize even outside of medicine – like consistently being addressed by my first name when male colleagues are addressed as Doctor. Patients comment on how young I look or ask my age all the time (women surgeons may be the only females who are finally happy to look old enough to no longer be asked that!). Patients assume the other male person in the room is the physician and I am an assistant. People assume my husband is the physician at professional gatherings and fill out the name badge for him instead of me.
Earlier in my career, like a lot of women in male-dominated fields, I thought I needed to be "one of the guys." I inherently knew the best way to get respect was to not be different (and strive to be always better). I felt the need to prove there is no difference between male and female surgeons. I was critical of any stereotypical female traits I perceived I had – "I'm too nice", "I worry too much about the team", "I apologize too often", or "I'm too self-deprecating". These are not traditionally considered to be qualities of a good surgeon. I think a lot of women put themselves down for these tendencies because society has told us they are signs of weakness.
Now, after training for 7 years and practicing for over a decade, I really value the things that make me different. Being kind and listening to others makes me a better coworker and plastic surgeon. Being humble allows me to listen and learn. Worrying about the whole team leads to better patient care. Focusing on good communication skills is an asset in healthcare. I care about how I balance spending time with my 3 children and simultaneously model a healthy work ethic and dedication to my career. Having a family and being a female surgeon with children (and navigating 3 pregnancies while operating) is not a weakness. I think we need to own our personal characteristics, learn from our mistakes and challenges, and realize what we bring to the table is not inherently good nor bad. It just is. I've come to believe that being "Midwestern Nice" might be exactly what the world needs a little more of.
What is your personal philosophy when it comes to plastic surgery?
When it comes to cosmetic surgery, I want people to know I'm going to tell them the truth. I want my patients to be happy. I'm not going to give false promises or oversell any potential results. During our first consultation, I'll be honest and say, "I don't think that's going to make you happy," or "That may not be the right procedure for you." I want my patients to be pleasantly surprised after surgery and think, "Oh my gosh, this is even better than I thought it would be."
I really enjoy breast and tummy tuck surgery because women deserve to look and feel good. Our bodies go through so much. As moms, as caregivers, as significant others, we often put everyone else first for our entire adult life. We shouldn't forget that our own needs matter too. Feeling good, feeling confident, having a better sex life, or just being more comfortable in our own skin – these are measures of human wellness that we often don't pay any attention to when we talk about overall "health".
How did you get involved in humanitarian reconstructive plastic surgery projects abroad?
After my experiences during residency in Ecuador, I completed a year-long cleft and burn reconstruction fellowship with ReSurge (formally Interplast), a non-profit that provides and teaches reconstructive surgery in low and middle income countries. Since my fellowship, I have continued to lead trips with ReSurge to countries such as Vietnam and Nepal. Many children and adults are suffering from conditions that are completely treatable in the U.S., but lack of access makes these problems life-threatening.
Children routinely die from burns that would be considered relatively minor in our country. Women and men live with disfiguring scars and clefts that inhibit them from working or getting married. Patients will walk and travel for days to see us in clinic when we arrive in country, with the hope that maybe we can help them. Their gratitude is profound and humbling. This sort of travel and work has shaped who I am as a person. There is never a time when I cannot put my own complaints or suffering in perspective when I know first-hand how many other people live across the globe.
What part of your international humanitarian work are you most proud of?
I've been especially proud to train and work with some amazing local female surgeons. In low and middle-income countries, women surgeons have to overcome so much to get educated and break into the field. Whatever difficulties we have as women surgeons in the U.S., it is 10 times harder in other countries. I'm honored to work with them and give them the support they need to continue to serve their communities, and in return, I have learned so much.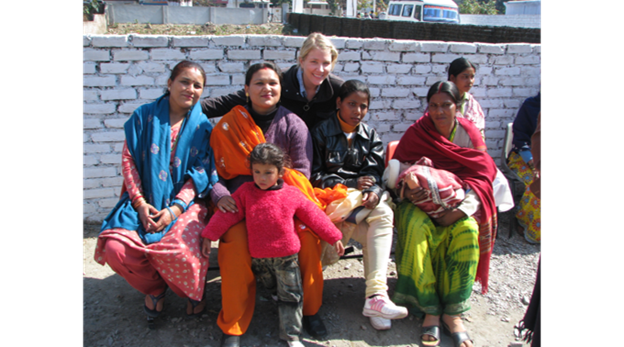 What do you love most about being a plastic surgeon?
Personally, I love the huge variety of procedures I get to perform. Plastic surgeons are problem solvers and get to creatively fix soft tissue issues that other surgeons don't know how to address. In cosmetic surgery, it's also really nice to work with patients who are excited to see me and who are happy. I may not be solving an emergent medical issue, but I enjoy using my skills and knowledge to contribute just a little bit to someone else's quality of life.
Dr. Spring is Chairman of the Department of Surgery at Logan Health, and Medical Director of Mountain West Plastic Surgery. She is a Board-Certified Plastic and Reconstructive Surgeon, Fellowship-trained in Aesthetic Surgery and International cleft and burn reconstruction.
If you're looking for a plastic surgeon in Kalispell and would like to meet Dr. Spring, please request a consultation online. You can also contact Mountain West Plastic Surgery by phone at (406) 756-2241.