Mountain West Plastic Surgery
60 Four Mile Drive, Suite 11
Kalispell, MT 59901
Phone: (406) 609-0210
Fax: (406) 609-0211
Monday–Friday: 8 a.m.–5 p.m.

Mountain West Plastic Surgery
1111 Baker Avenue
Whitefish, MT 59937
Phone: (406) 609-0210
Fax: (406) 609-0211
Wednesday: 9 a.m.–4 p.m.

Mountain West Plastic Surgery
30544 Highway 200
Ponderay, ID 83852
Phone: (406) 609-0210
Fax: (406) 609-0211
Wednesday: 9 a.m.–4 p.m.

Dr. Spring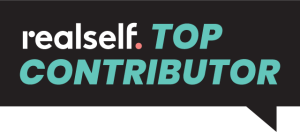 Michelle Spring, MD, FACS, is a board-certified, aesthetic fellowship-trained plastic surgeon in Kalispell and Whitefish, Montana and Sandpoint, Idaho. She specializes in cosmetic plastic surgery, including breast reductions, breast implant removal, breast augmentation, mommy makeovers, and facial cosmetic procedures. Dr. Spring is grateful for her extensive training, experience, and work with international humanitarian agencies, which have all fueled her passion for cosmetic and reconstructive plastic surgery.
Dr. Spring joined Mountain West Plastic Surgery after practicing for 7 years with Logan Plastic Surgery, where she spent years as the plastic surgery medical director, Vice Chair of Surgery, and most recently Chair of Surgery at Logan Health.
Dr. Spring is Clinical Assistant Professor in the Department of Surgery at the University of Washington School of Medicine. She teaches medical students and surgery residents in the WAAMI program, UW School of Medicine's one-of-a-kind, multi-state medical education program.
Prior to this, Dr. Spring spent 4 years in Marina del Rey, California where she was Adjunct Clinical Assistant Professor of Surgery at the Keck School of Medicine of USC. She taught plastic surgery residents and aesthetic surgery fellows, and was an Injector Trainer for the AestheticSafe resident training program.
She has also practiced in northern Idaho and Madison, Wisconsin. She is active on committees and has been an invited speaker for both the American Society of Plastic Surgeons (ASPS) and The Aesthetic Society (ASAPS). She received a certificate from the Harvard Medical School Global Scholar of Surgical Leadership program in 2019. Dr. Spring's outstanding practice lead her to receive the Top Doctor award for Top Plastic & Reconstructive Surgeon, Montana the Best of Flathead Valley Plastic Surgeon award, and others.
Patients travel from Missoula, Whitefish, Coeur d'Alene and Spokane to have Dr. Spring perform their aesthetic and reconstructive plastic surgery. To meet with Dr. Spring, request a consultation using the online form or call our Kalispell practice at (406) 609-0210 to schedule an appointment.
Dr. Spring is beyond sweet and amazing. She is a down to earth woman who makes you feel comfortable…If you want the most natural, most incredibly comfortable augmentation experience go here. I have 4 people in my family with breast augmentation from the best doctor on the east coast – theirs are all amazing, MINE ARE BETTER.
Education and Training
Dr. Spring earned her undergraduate degree in biochemistry and molecular biology from the University of Wisconsin and then completed a 5-year, integrated plastic surgery residency at the same university. Following that, she completed 2 additional fellowship training programs. One was a cosmetic surgery fellowship credentialed by the American Society for Aesthetic Plastic Surgery in Marina del Rey, California. The other was an international fellowship with the nonprofit agency ReSurge that focused on pediatric cleft and burn reconstruction.
Dr. Spring practiced in Sandpoint and Coeur d'Alene, Idaho, before spending 4 years practicing in Marina del Rey, where she also served as an adjunct clinical assistant professor at the Keck School of Medicine of the University of Southern California. She taught plastic surgery residents and fully trained plastic surgeons completing a cosmetic surgery fellowship at Marina Plastic Surgery. She then worked at Logan Health (formerly Kalispell Regional Medical Center) for more than 7 years and held the positions of plastic surgery medical director, Vice Chair of Surgery, and Chair of Surgery. She still sits on the Logan Health Breast Leadership Program Committee.
Combining Compassionate Care and Surgical Expertise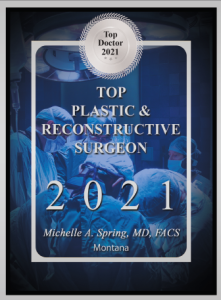 Patients seeking cosmetic breast surgery, body contouring or facial rejuvenation will appreciate the compassionate care and surgical expertise of Dr. Spring. She has a true passion for making a difference in the lives of her patients. As a woman and a mother, Dr. Spring understands how pregnancy and breastfeeding affect a woman's body, and how rewarding it is to restore and improve breast and abdominal contour and shape.
With her diverse set of skills and experiences, Dr. Spring can truly appreciate each patient's specific situation and personal goals. She takes time to get to know her plastic surgery patients and understand their concerns.
A Passion for Humanitarian Work and for Life
Dr. Spring's energy and enthusiasm to serve are evident in her personal and professional life. She has volunteered with the American Red Cross, Big Brothers Big Sisters, and the Salvation Army, where she was responsible for delivering health care and supplies for the homeless. She continues her humanitarian work with Eduplast and ReSurge, nonprofit organizations dedicated to training plastic and reconstructive surgeons and providing free reconstructive surgery for children in underdeveloped countries all over the world.
Prior to joining Mountain West Plastic Surgery, Dr. Spring traveled extensively through Bangladesh, Bolivia, China, Ecuador, Nicaragua, India, Peru, Taiwan, and Vietnam. During her travels, she used her surgical skills and compassion to provide humanitarian relief as an Interplast (now called ReSurge) Webster Fellow and later as both a team leader and a lead surgeon. She provided free reconstructive plastic surgery for children and adults with cleft palates, cleft lips, disfiguring burns, and hand deformities. She continues her passion for medical mission work, recently completing her 3rd trip to Vietnam and planning many more in the future.
Testimonials
In addition to the testimonials shown here, some of Dr. Spring's past patients post reviews on the RealSelf website, where Dr. Spring also answers questions posted by women and men considering cosmetic and reconstructive procedures.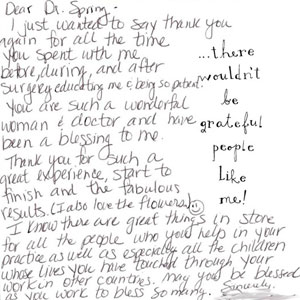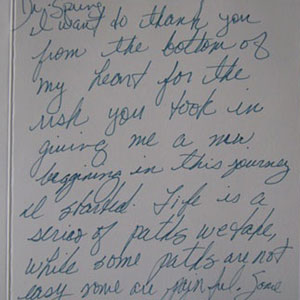 I Can't Explain How Happy I Am
Written on June 29, 2015
Dear Dr. Spring,
I know I expressed to you briefly in person how happy I am with the results of the lipo and ESPECIALLY the rhino, but I just wanted to take this time to thank you again. It has been something that has bothered me the majority of my life and ever since the procedure I can't explain how happy I am. I can breath better through my nose now than I can ever remember. My nose looks better now than ever also. Natural but ascetic. Straight and balanced. Best money I've ever spent. I wish I met you 10 years ago. Thank you for changing my life.
Very sincerely,
by R.
The Most Natural, Most Incredibly Comfortable Augmentation Experience
Written on June 29, 2015
Dr. Spring is beyond sweet and amazing. She is a down to earth woman who makes you feel comfortable. Tammy is the most amazing nurse in the world.
If you want the most natural, most incredibly comfortable augmentation experience go here.
I have 4 people in my family with breast augmentation from the best doctor on the east coast – theirs are all amazing, MINE ARE BETTER.
They are so amazing, I have one friend flying in from Hawaii to get her surgery here, and I have another friend that booked her surgery only a month after I had mine.
Can't say enough about Dr. Spring and their whole team.
by Anonymous
Dr. Spring Is Wonderful..
Written on June 29, 2015
Dr. Spring has a wonderful bedside manner. She explained everything to me before she did the treatment.
by Anonymous
Dr. Spring Did a Phenomenal Job
Written on June 29, 2015
Dr. Spring did a phenomenal job. I've already recommended her to friends!
by Anonymous
Dr. Spring Was Exceptional
Written on June 29, 2015
Dr. Spring was exceptional. Answered all my questions. Alleviated my concerns. Did a great job!
by Anonymous
Dr. Spring And All Her Staff Were Amazing
Written on June 29, 2015
Dr. Spring and all her staff were amazing and made me feel at ease prior to, during, and post surgery.
by Anonymous
My Breast Are Everything I Desired, If Not More!
Extremely Thrilled – I recently underwent breast augmentation with Dr. Michelle Spring in Marina del Ray. I was anticipating a fuller yet natural-looking breast. Dr. Springs' work is impeccable. Not only did she offer her professional opinion, she listened to what I had to say and answered all of my questions. My breasts are everything I desired, if not more! The post op care I have received has been tremendously thorough and my healing process is right on track. The staff at M.P.S go above and beyond to make sure you are comfortable and aware of what you are experiencing. I have nothing but positive feelings; I am elated that I can accredit Marina Plastic Surgery. Dr. Spring, Tammy and Charlie you have my everlasting gratitude. Thank you!!
by Brittany C.
I Am Thrilled With How They (my Breasts) Look And How Natural They Feel
Written on June 29, 2015
I went to consult with Dr. Spring regarding, primarily, a facelift and possibly a redo on my breast implants. At my age (50+) I didn't really want to spend any money on my breasts, as my bikini days were long behind me, however, my breasts had gotten very hard and misshapen over the years due to scar tissue. Before Dr. Spring came in to the exam room, I had a very relaxed and informative conversation with her nurse Tami. Tami knew exactly what I had been experiencing with my breasts, the embarrassment when you hugged someone, the discomfort, restrictions on certain clothing, etc., the things I had just accepted as "normal". Tami and Dr. Spring both convinced me of first the health hazards of having 23 yr old implants and how happy I would be with the changes. They had me so excited at the prospect, that I actually scheduled the breast surgery before the facelift and, boy, were they right! Dr. Spring spent hours in surgery removing all of the scar tissue that had accumulated and spread to my armpits and high up on my chest. She also did a wonderful job aesthetically of reshaping my breasts when placing the new implants. I am thrilled with how they look and how natural they feel. And, as a bonus, people think I've lost weight because my breasts don't start under my collar bone. I would recommend to all women, older or not, whose breast implants have gotten hard and unattractive, spend the money, treat yourself, you will be so happy you did. As far as Dr. Spring and the whole staff at Marina Plastic Surgery Associates, they could not be nicer, more professional, responsive and right on their game. The sincerest form of trust and appreciation is repeat business and I'm going back next month for my face!!
by Marlena Torreano
I Look Like a Younger Version Of Myself
Written on June 29, 2015
I just had a full facelift with Dr. Spring and couldn't be happier. Her staff is always kind and cheerful and willing to help with every concern you may have. Her surgery coordinator, Katie Jo, is very sweet and accommodating, and her nurses, Patrice and Tami, are extremely knowledgeable and nice. I don't even remember anything about the surgery but recovery was not painful. I am a working woman and didn't have more than 2 weeks of vacation to devote to recovery. Dr. Spring assured me that if I stayed home for 10 days and looked good to her eyes I could go back to work. I covered my marks and went back to work on day 10. Everyone I encountered thought I lost weight or changed my hair. I actually did both, but as Dr. Spring's nurse, Patrice, said, they would ask that, not if I did something to my face. That is the hallmark of a great surgeon's work. I look like a younger version of myself. I have only one firm chin, and no lines around my eyes or mouth, and my brow doesn't sag. I used to be cute, now I have been told I'm beautiful. Thank you Dr. Spring and staff!
by Robyn Harris
Happy Mommy!
Written on June 29, 2015
I have been to multiple consultations in Newport Beach, Beverly Hills, and Marina Del Rey, and when I met Dr. Spring it felt right from the first few minutes of my consultation. I saw her for a "Mommy Makeover". I have 4 children, and hadn't felt sexy in 16 years. My life has completely changed, and I feel like my younger, sexier self once again! I am beyond thrilled with my results, and had an overall wonderful experience at Marina Plastic Surgery. I have been back to the practice since my surgery and have gotten Botox, fillers, and the "Fraxel laser" for my face to even out my skin tone.
by tracylynn67, Marina Del Rey, CA
Excellent Plastic Surgeon!
Written on June 29, 2015
I was referred to Dr. Spring by a former patient who spoke very highly of her and she lived up to my expectations. I recently had a breast lift and augmentation from Dr. Spring. Dr. Spring and her staff make you feel at ease throughout the process. I was a patient with many questions and they were very helpful in getting every question answered. I am extremely happy with my results and would recommend Dr. Spring to anyone looking into breast lifts and / or augmentation.
by kaseyc3168, Marina Del Rey, CA
Love My New Breasts!
Written on June 29, 2015
Lots and lots of research. I recently had a breast augmentation performed by Dr. Spring and I can honestly say it was the best decision I have ever made. Dr. Spring is talented, professional and realistic. She has wonderful bedside manner, great insight and you can tell that she loves what she does. Her nurse Tami is also amazing and makes you feel like you have known her for years. Katie Jo who handles the scheduling and finances is great and so is the rest of the staff. She is the only person I trusted performing my breast augmentation and I visited a total of 16 doctors. I couldn't be happier with Dr. Spring and I would recommend her to anyone.
by Happy customer, Marina Del Rey, CA
Best Thing I Have Ever Done for Myself
Written on June 29, 2015
Dr. Spring has an incredible bed-side manner. She listened patiently to all of my questions and concerns. I brought in very specific photos and knew exactly what I wanted to look like after the procedure, and she did a remarkable job. I have never felt more beautiful and confident with my body. I never felt rushed or pressured into anything other than exactly what I was comfortable with. 5 stars to Dr. Spring!
by happy in LA, Marina Del Ray, CA
So Far So Good…
Written on June 29, 2015
Dr. Spring was so down to earth, she removed the normal anxiety that one has going into a cosmetic surgeons' office just by being herself. She was easy to talk to, not pretentious in the least but still has an air of confidence about herself that put me at ease. I ended up doing 4 procedures with her at the same time and I am happy with all 4 outcomes so far. That speaks volumes to me, as I am no stranger to cosmetic surgeries and procedures. Not only was she awesome, but her staff is top notch as well! Especially the nurse that worked with her and I, she was extremely down-to-earth while staying perfectly professional and sweet. I couldn't be happier with my experience with Dr. Spring, her nurses, the finance/appointment person, and the front desk women…they were all the best!
by SmileyGirl315, Marina Del Rey, CA