One of the perks our breast augmentation patients enjoy is getting to buy new, more flattering bras after surgery. It's one of the most exciting parts of the breast augmentation experience, especially when you know what to expect heading into your recovery.
In this blog post, I'll provide some tips for buying bras after breast augmentation, from post-surgical garments to the high-end lingerie you've been dreaming of wearing.
What are the best bras for after breast augmentation?
For the first few weeks after breast surgery, (whether you've had an augmentation or a breast lift) you'll need to wear a supportive surgical bra to minimize swelling and help your breasts heal smoothly. Steer clear of underwires to avoid irritating your healing incisions. Healthline offers some helpful tips for selecting a comfortable post-surgery bra.
You will wear this post-surgery bra until your surgeon gives you the go-ahead to move onto underwire bras and other styles, which is often around 3 to 6 weeks
Will I need a bra fitting after breast augmentation?
Your breast size, shape, and the way bras fit you are likely to be different than what you're familiar with, so it's wise to get a professional fitting. With a fitting, you'll get precise, personalized guidance as to the right size, and your fitter may even have some advice about which styles or shapes will best flatter your new shape.
This new opportunity to find your perfect fit is one of the many unexpected benefits of breast augmentation, which you can learn more about in our previous blog post.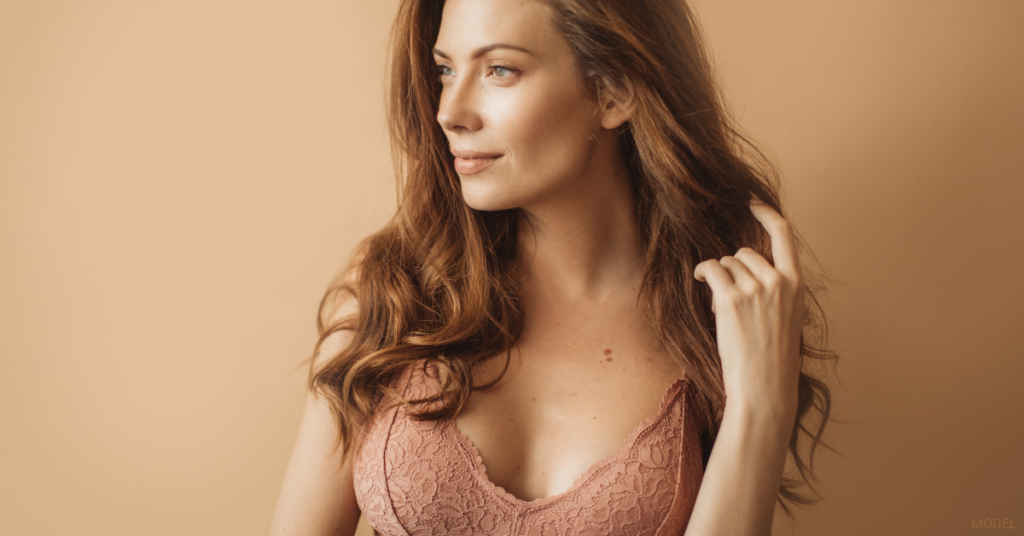 When can I buy expensive lingerie after breast augmentation?
It's best to wait about 6 months before splurging on expensive lingerie because the shape and size of your breasts can change quite a bit up until that point. A bra that fits you 2 months after surgery may not fit you a year after surgery. Hold off on investing in high-end lingerie to make sure you're able to enjoy it for as long as possible.
Can I buy bras online after breast augmentation?
Stay away from online bra shopping until you're completely healed and sure of your size. It's wise to try out bras from a few different brands in person so you can get a better idea of how different styles, materials, or brands work on your body. Once you have a strong frame of reference, you can move on to buying online.
What are the best bras to wear after breast augmentation?
The best post-breast augmentation bra is the one that makes you feel your best, and that's up to you to discover. Explore as many new styles as possible as you determine what helps you feel most confident.
When you complete your wardrobe and are ready to say goodbye to your old pieces, consider donating them to an organization that provides bras to women who can't afford them.
To see examples of the results you can expect after breast augmentation, please visit our before-and-after photo gallery.
If you would like to learn more about what you can expect after getting breast implants in the greater Missoula, MT, area, please contact us online or call (406) 756-2241.